What key ingredients make modern movements inclusive and transformative?
How do we create real and enduring change? What have successful activists done that works,
and what doesn't work? And how can anyone get involved and make a difference?
Today, ordinary people are taking on extraordinary problems, gaining traction, and making the impossible possible. Same sex marriage, #BlackLivesMatter, the DREAM Act, the People's Climate March, the $15 minimum wage, Occupy Wall Street—these are just a few of the remarkable initiatives that have blossomed in the past decade. Now in WHEN WE FIGHT, WE WIN!: Twenty-First-Century Social Movements and the Activists That Are Transforming Our World, longtime social activist Greg Jobin-Leeds joins forces with AgitArte—a collective of artists and organizers—to capture the stories, philosophies, tactics, and art of today's leading social change movements.
With a foreword by Colorlines' Rinku Sen and an afterword by celebrated author Antonia Darder, WHEN WE FIGHT, WE WIN! weaves together personal interviews with today's most successful activists and artists from across the country, including Patrisse Cullors-Brignac, Bill McKibben, Clayton Thomas-Muller, Karen Lewis, Favianna Rodriguez, Rea Carey, Gaby Pacheco, and other prominent changemakers—to share lessons of what works—and what hinders—transformative social change.
Filled with brilliant full color art that Kirkus calls "consistently and effectively provocative," WHEN WE FIGHT, WE WIN! focuses on six major issues—the LGBTQ movement, the fight for quality public education, the prison justice movement, immigrant rights, the struggle for economic power, and the environmental movement.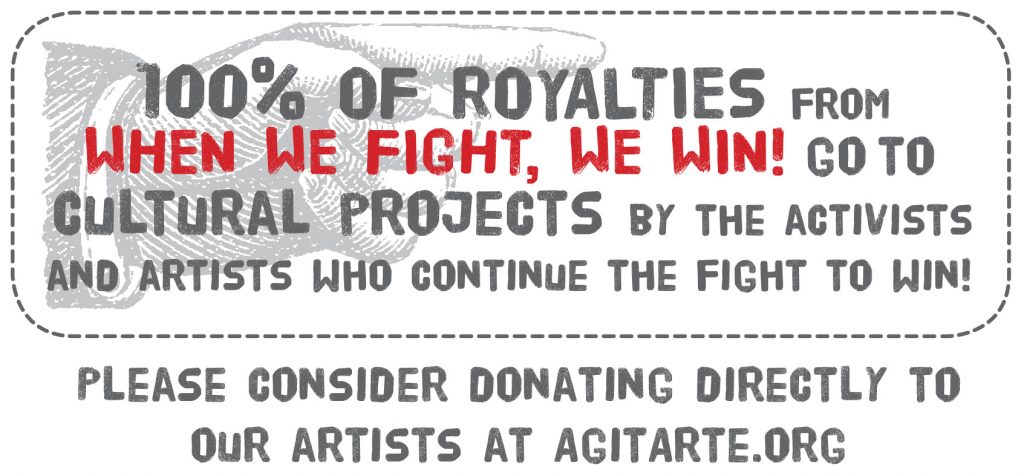 Team