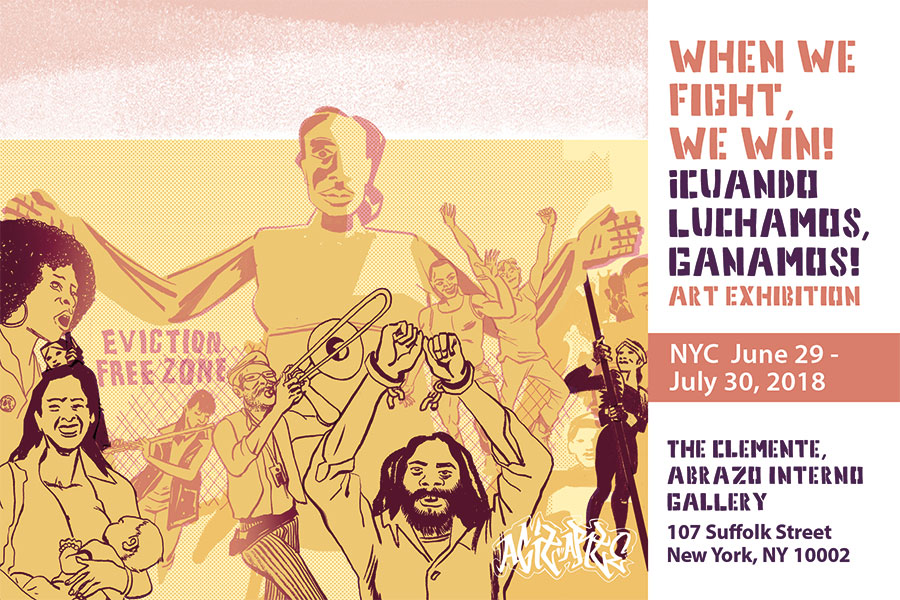 ABOUT THE EXHIBITION:
In 2016, the book When We Fight, We Win! was born through a collaboration between writer and activist Greg Jobin-Leeds (Author) and AgitArte (Art Direction/Editing), an organization of working class artists and cultural producers who work at the intersections of race, class, gender, sexuality and ideology, and create projects and practices of cultural solidarity with grassroots struggles for liberation. The book documents the lessons, themes, and creative strategies that have surfaced in social movements between 2000 and 2015 in the United States. Through a five year research and interview process with organizers across transformative movements, the book manifests in six chapters, highlighting six intersectional struggles in the US: LGBTQ liberation, the fight for public education, immigrant rights, the struggle for economic power of the 1%, and environmental justice. The artwork featured in the book creates a visual pulse elevating and connecting the stories, interviews and reflections that together proclaim the rallying cry: "When We Fight, We Win!"
Similar to the book, the When We Fight, We Win! / ¡Cuando Luchamos, Ganamos! exhibition features artists, cultural organizers and collectives whose work bolsters people's movements and builds solidarity across place, culture and struggle. Moving from the page to the gallery walls, the exhibition provides space to share and interact with movement art in tactile and visceral ways, breaking the barriers of two dimensional form, to invite performance, moving image, installation, artwork used in direct actions, and collective art making.
This exhibition is made possible with support from When We Fight, We Win! and The Clemente's Open Call Program which is supported by the New York City Department of Cultural Affairs and the New York Council on the Arts.
The exhibition will be open 3:30-7pm everyday through July 30, 2018. 
ARTISTS:
AgitArte, Agustín Muñoz Ríos, Another Gulf Is Possible Collaborative, Antonia Darder, Bread and Puppet, Bria M. Royal, City Life/Vida Urbana, Crystal Clarity, CultureStrike, Dey Hernández, Emily Simons, Erik R. McGregor, Estefanía Rivera Cortés, Fernando Lopez, For the People Artists Collective, Gabriela Álvarez, Jackie Fawn, Javier Maldonado O'Farill, Jayeesha Dutta, Jesús Iñiguez, Jornada: Se acabaron las Promesas, José Jorge Díaz, José 'Primo' Hernández, Julio Salgado, Kevin "Rashid" Johnson, Micah Bazant, Mónica Trinidad, Molly Crabapple, Mumia Abu Jamal, Osvaldo Budet Meléndez, Papel Machete, Rachel Schragis, Radical Arts & Healing Collective, Remy, Rude Mechanical Orchestra, Southerners On New Ground, Sugeily Rodriguez Lebron, Sylvia Hernandez, Tina Orlandini, The Indian Problem, and more!
RESOURCES FROM THE ARTISTS & COLLECTIVES:
AgitArte
Post-Hurricane María Rapid Response Artwork for Download
Post-Hurricane María Mutual Aid & Cultural Solidarity Campaign
End the Debt! Decolonize! Liberate! scroll – available for popular education workshops
AgitArte / When We Fight, We Win!
Study Guide & Resources from the book 
When We Fight, We Win! Artkit – FREE DOWNLOAD
Another Gulf Is Possible Collaborative | A Just Harvey Recovery Resource Page
bria royal | Pocket Healing Zines
CultureStrike
Taco Talks
"Until We Are All Free" Art Kit – FREE DOWNLOAD
Chef Gabriela Álvarez of Liberation Cuisine | Bundles of Liberation Meal Coop
Emily Simons + Team | Pittsburgh Poster Project
For The People Artists Collective
Color Me Rising, A 2015 Radical Coloring Book
Kevin "Rashid" Johnson – He has recently been moved to Sussex State Prison in Waverly, VA. Write to Kevin "Rashid":
Kevin "Rashid" Johnson
24414 Musselwhite Drive
Waverly, VA 23891-1111
Micah Bazant in collaboration with various artists | Trans Life & Liberation Series
Rachel Schragis with E.M. Eisen-Markowitz | @Vent_Diagrams
Radical Arts & Healing Collective | Services
Rude Mechanical Orchestra (RMO) | Chants and Albums
Southerners on New Ground (SONG) | Core Organizing Tools