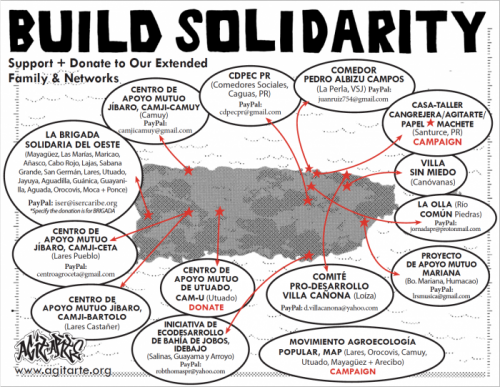 16 Nov

AgitArte Build Solidarity Map PR
Faced with the collapse of the State and the abuses of FEMA in post-Maria Puerto Rico, we have organized ourselves in self-managed spaces around the Island known as Centros de Apoyo Mutuo (Mutual Support Centers + CAM). In addition to providing support to overcome urgent needs in the communities, we promote their empowerment and create discussion spaces to generate critical thinking and the understanding that we are facing a political disaster that is even more dangerous than the natural disaster.
In CAM, the following 3 main functions are organized:
* Social dining rooms where we serve food prepared for free.
* Collection centers where we collect local and diaspora aid to distribute in the communities according to need.
* Permanent Solidarity Brigades to open roads by force of ax and machete; and support in agriculture and housing reconstruction.
Some CAMs also offer the services of popular health clinics, cultural activities, community garden workshops and education for children. We are located in Caguas, Río Piedras, Mayagüez, Humacao, Utuado, Lares, Naranjito and Old San Juan.
We are not in a Shock State. We are organizing to combat the onslaught of disaster capitalism and its henchmen. Help us with your donation!!!
BUILD SOLIDARITY!!!!!!
Support + Donate to Our Extended Family & Networks:
AgitArte Build-Solidarity-map-pr.pdf https://goo.gl/eYG6X9